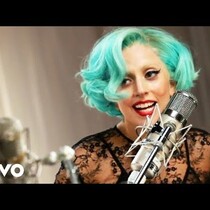 Posted June 17th, 2013 @ 8:39am
Eonline reports that the much anticipated Tony Bennett/Lady Gaga project is a GO!
"We're working in about a week and a half. I'm doing an album with her," the 86-year-old crooner told E! News at Samsung's 12th annual Hope for Children Gala in New York City on Tuesday. "It's really exciting."
Bennett added, "She's actually a very wonderful singer and we're going to go with a lot of big, swinging jazz songs...to show everybody she really knows how to sing beautifully." For more on the story from Eonline, click here. For a fun three minutes, watch the video. Green hair and all...she holds her own.